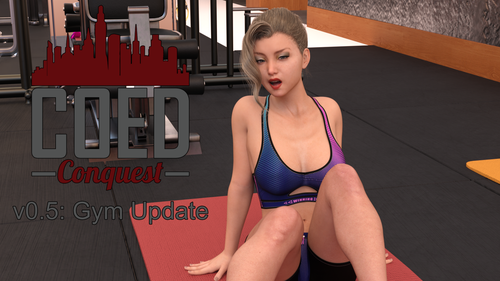 In COED Conquest you play as university student Chad Gibson! You will begin your studies at one of the most prestigious universities in the capital of modern education and science 'Paradise City'. Not only did you get in one of the top universities, you were also put into a very experimental study program!
Instead of studying hard and taking tests, you will have to build a business empire from scratch! You will work at different businesses around town to gather experience and afterwards take them over! Sounds hard? Don't worry, you are not alone in this endeavour! The department got every student in the program a private secretary! And there is also the mysterious girl you met on your first day at campus!
It is easy to get distracted in 'Paradise City' with almost a quarter of the population of the city being fellow college students, there is always a hot girl just around the corner!​
Thread Updated: 2021-05-15
Release Date: 2021-05-15
Developer: despiteful  – Patreon
Censored: No
Version: 0.5
OS: Windows
Language: English
v0.5:
New content:
– Gym is finally here! Get yourself a personal Trainer License and add a Sauna!
– Sophie Route unlocked! The girl really needs a personal trainer to help her out!
– Jenny Route Rework! Every Naughty Scene has additional images, or was completely replaced!
– Three new Naughty Selfie Rewards!
New features:
– First Preparation for the big Satisfaction Update (Notify me if Satisfaction gain causes errors for you!)
– Location based Clothing System, Girls are now able to change clothes based on Location (Implemented for Gym -> Sophie/Jenny)
– New Encounter System implemented and used for the new Route! No more failing if you mess up one Skill check in future Quests! (For the most part
)
– Added Library Use related reward items!
– Added Library Use book to the bookstore!
Bug Fixes and Changes:
– Retconned the fate of Siegismund and the Van Eitel family! (End of the Tower acquisition Q-Line)
DOWNLOAD
PC
uploadhaven.com/download/435aaf6bfc7ad605a5685269d739a8d2
mega.nz/file/mO5wSbgJ#C3zHKA2yAHvmM3bBFQJmdR5_ejszoKvJ0GasMBGE9AY
Sample