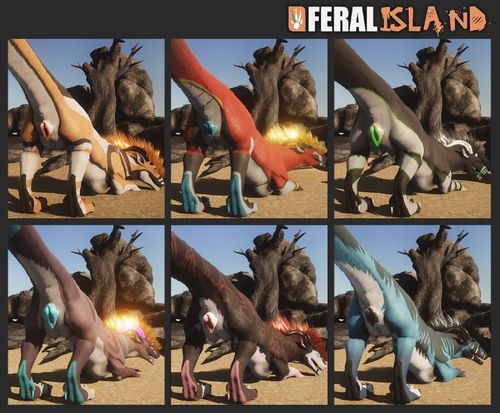 Feral Island is VR game with a wide range of adult and feral themed features, centering around fantasy, mystical and alien creatures the players
can watch, befriend and interact with.
The main idea is to create a sandbox game with a very optimistic approach on sexual inter-species relationship that is based on conses and exploration instead of force and violence. After taming and befriending, you will also be able to gratify your feral friends needs or even experience being a feral creature yourself.​
Thread Updated: 2021-06-16
Release Date: 2021-06-1
Developer: VR Ferals – Patreon
Censored: No
Version: v0.15.127 Public
OS: Windows
Language: English
v0.15.127 Public
Features:
Added the Cinemachine framework to allow better third-person camera deployment.
Added a Cinemachine alternative camera control for FeralIsland. This control is for VR-mode only. If you play the core game you can now tilt the head of your HMD to slightly determine the direction of the creature you control. This system will be improved in future updates even more.
Added music to the main menu.
Changes:
Big performance improvements for the island: After testing the Island on my VR-headsets, I discovered that the performance was pretty bad, for that reason I took my time to overall enhance the performance of the game. This update greatly enhances the performance of the core game, by the use of LOD systems, that disable a lot of stuff, that is not visible for the camera, or inactive. FPS on the island is now nearly 40% higher! There is however still room for even more optimization.
Improved the turning behavior for creatures in the core game.
Improved the collision detection for creatures in the core game when they collide with the ground surface. This prevents most instances of the creatures clipping through the ground.
Bugfixes:
Fixed a bug in which the dry humping was now loaded.
Fixed a bug in which the creature pivot-points in the core game where doubled game objects, resulting in strange turning behavior.
DOWNLOAD
PC
mega.nz/file/K1oyDIJR#j0xBjpW9uo9JNUPF0kGRS3wwjkwOjb_12qQmri0AFgE
workupload.com/file/YLLZGfvBaXj
Sample