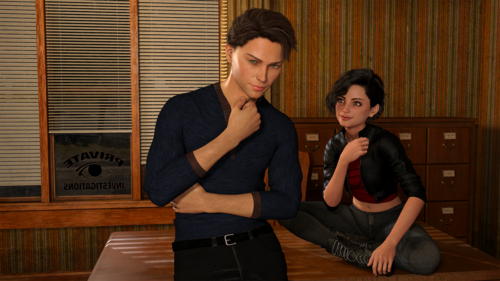 After spending several years as a private investigator, Penny is informed that she has broken too many rules and must give up her business. Determined to continue her work, she finds a new way to continue helping those in need. But when her past comes back to haunt her, will she be able to resist falling to despair?​
Thread Updated: 2021-06-16
Release Date: 2021-04-25
Developer: Lockheart Patreon
Censored: No
Version: Prologue – v1.1.2
OS: Windows, Linux, Mac, Android
Language: English
Full Prologue Released
First and Second release is being rolled into what we're considering the Prologue. It does conclude the Despair storyline. We'll be moving in a different direction with the release of Chapter One.
DOWNLOAD
PC/LINUX
mega.nz/file/PmgGCBrS#8ITw-iTRkh5OnHJQEwSDeVvp8jcx1_YQKNq84EauqV4
MAC
mega.nz/file/L6YRzY6I#plLB-whhGKc82BkmTbS23YeC5jnDjzkQ65p-k9prAmk
Android
mega.nz/file/2qIhEQAS#BzVNwt5YhsGPnEMimgHU0alDvD00iZ4nJkznJUYeQlA
Sample