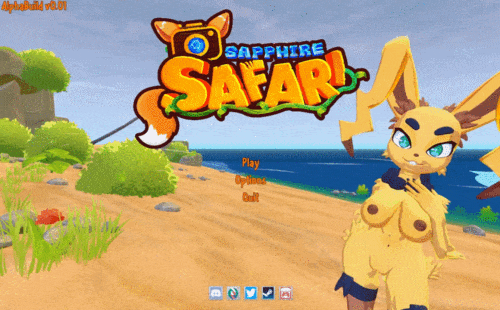 Answer the call of the wild with the Sapphire Safari Photography Company! Capture the beauty of real-life Monster Girls in their natural habitats. As an award-winning wildlife photographer, your job is to venture deep into unexplored territories, capture the Monster Girls as they socialize, hunt, sleep, and mate, and hopefully come out in one piece.
​
Thread Updated: 2021-09-14
Release Date: 2021-09-14
Developer: Kinky Fridays  Patreon
Version: 0.0.1a
OS: Windows
Language: English
v0.0.1a
Mechanics in the Alpha:
The Monster Girls in the current alpha are as follows:
Bunbuns: A yellow bunny-type creature with a lot of joy to share.
Tsunbee: A bee-like creature with a terrible attitude.
Crabby: A crustacean like no other, can be seen digging in the sand.
Lizzurn: A striking reptile with a cheeky disposition.
Use your camera to take photos of the Monster Girls around the play space, right-click to enter the viewfinder or aiming mode. Use the mouse wheel to adjust the zoom. Hold ALT and scroll the mouse wheel to adjust the focus. If the camera detects a Monster Girl you will see a red box around their heads. Snap a photo to capture the moment!
Stealth is working in the build, but it is quite simple for the time being. Use the CTRL button to crouch, slowing your walking speed and making you hard to spot. The Monster Girls have a vision cone that is interrupted by objects and fauna. So hiding in a bush to get those candid shots is the goal!
In this demo space, you will have 10 total shots you can take in your camera, however, you can empty the storage by interacting with the campsites computer. Here you can store the photos you like, and delete the ones you don't. The UI is quite simple here but eventually using the computer you'll be able to submit your photos for cash and for bounties.
A basic day-night system, spend enough time roaming the demo space and you'll notice day cycles into night and back into day again. You can speed things up by interacting with the bed at your campsite.
DOWNLOAD
WIN
mega.nz/file/HDwGzbjT#ySlOYyDRiVlsYnHEie8hjrX1WARDfBupRxSgFd40hoI
Sample