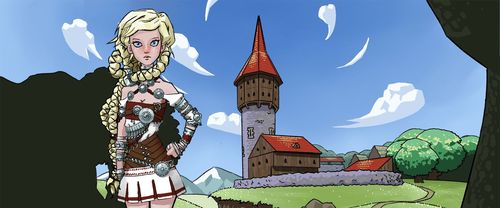 Princess Tower is an erotic , kinky trainer game made in Ren'py that focuses on extremely interactive h-scenes. It also tries to have a few good jokes somewhere in there.
The player takes on the role of Frim of Coombmere, a hedge wizard in the employ of the Dark Imperium, tasked with taking care of Princess Ariane in order for the Dark Imperium to tighten its grasp on conquered territories. Frim decides that the best way to approach this task is to train obedience and submission – and if that training involves a little kinky sex, all the better.
The game is currently in an early-ish state of release. The word count for v.0.7 is 19,549.
​
Thread Updated: 2021-03-18
Release Date: 2021-03-17
Developer: Euphemismus Patreon – Itch.io – Discord
Censored: No
Version: 0.9.1
OS: Windows, Linux, Mac
Language: English
v.0.9.1:
Changes:
– Skipping intro gives 4 of either fragment instead of 3
– If Ari has Daily Task rule active without Help With Paperwork rule, player is prompted about whether to ask Ari for help when doing paperwork
Bugfixes:
– Hopefully resolved 'maximum recursion depth exceeded' error that showed up when saving/loading
– Upgrades no longer have crosstalk issues between savegames
– Important typo in chains quest description fixed ("raise :ari_bang: to 3" -> "raise :ari_bang: to 4")
– Fixed an issue with the bottom quick menu disappearing during spank scenes and never returning
– Disabled the quick menu during interactive h-scenes – it can cause issues and I should have done this long ago
– Disabled rollforward during interactive h-scenes until I find a fix for why some variables aren't correctly changed when rolling forward
– Fixed visual glitch where the ruler was sometimes still shown during h-scene interjection scenes
– Fixed issue where Ari's Temperament wasn't changing properly on levelup
– Fixed Linux issues caused by renpy.get_mouse_pos() returning float in Linux (thanks, Sep, for including the exact line causing the issue and also a fix with your bug report
)
– Fixed issue where the Thaumaturgy Cabinet menu buttons were accessible even if the Upgrades menu was open
– Fixed issue where spank scene max bang interjections weren't firing correctly
– Fixed some issues with incorrect heart path scenes firing after end-of-content
– Candle upgrade should now always appear when reaching chains level 2
– Small editorial fixes (typos and grammar and sentence structure and stuff. Thanks for the help on that, HeavyEavy)
Known issues:
– there's a small visual glitch when rubbing areas that have been spanked red
DOWNLOAD
PC/LINUX
mega.nz/file/fEYlxKpT#DO82byPxbqcnFfEIvKCRJLqJpXOYFs4pfZlATbdbJQA
MAC
mega.nz/file/2BBXxCYB#rVJZPe2d3GVI6EpFecPvy2Pt_jgdEs2hmHJsDABbJxw
Sample