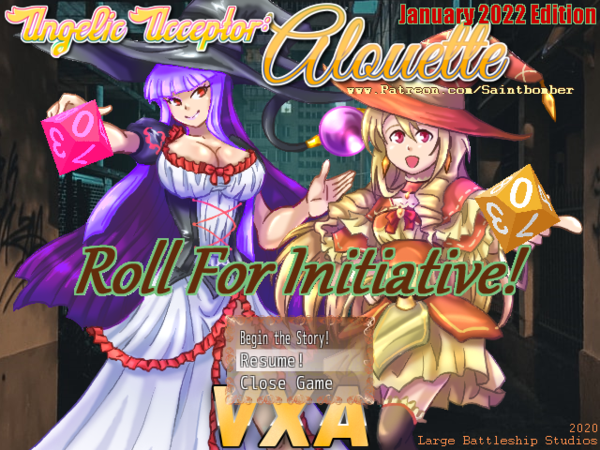 Simone Bradley is an ordinary everyday girl charged with the important mission of defending love and justice in the form of the invincible and adorable Angelic Acceptor: Alouette! (VXA)
One day our "completely ordinary girl," Simone happens across a strange raffle in which she wins a seemingly normal magical girl toy that turns her life upside down! But what happens when something turns your upside down life upside down again? Does it turn right-side up, or does it simply start spinning out of control on its own?
Find out in this slightly western-flavored Magical Girl story that questions the meanings of love, purity and normalcy.
Developer: Large Battleship Studios Patreon
Censored: No
Version: JANUARY EDITION
OS: Windows
Language: English
Genre: Female Protagonist, Lesbians, refer to content warnings
~~~~~~~~~~~January Edition!~~~~~~~~~~~~*~_
Happy Solstice!
-Added Episode R-5, Triggerable from Aunt Raye's Front door (Requires the completion of Anastasia's Sub Episodes)
-Added Episode U, Triggerable from the School Lecture Hall (Requires Talking to Veronica Sensei)
-Completed Episode S. (Requires Petanque)
-Added Episode E-2, triggerable from the house.
-Modified the quantum field around Anastasia for the Episode !?!? subplot. It should appear more intentional now.
-Numerous bug fixes, courtesy of Wildrows
-Discovered a major flaw in the current Normal/Hard battery systems. That's going to take some fixing, but not this month.
How to January Edition:
Episode R
-Complete Episode Z and talk to Aunt Raye at the house. Play video games with her.
-Complete "the Anastasia Experience" and return the ghost swords.
-Go back to the house and enjoy the party.
Episode U
-Complete the TOTALLY NOT CURSED YOU GUYS Convention center
-Talk to Veronica-Sensei in the teacher's Lounge
-Attend a her lecture on Miter-Saw safety in the center Lecture Hall. (Visual aids included)
Episode S
-Explore as far you can into Level 2 with Lasca.
-Get to Episode 11 while staying on speaking terms with Petanque
-Call Petanque on the commune, and she'll tip you off on the next location to explore, and meet you there.
-Bounce around level 2 for a while and talk to some of the other hapless explorers.
-Meet a special new friend and take SAN damage.
-Go back in and drop Petanque off on the east side of the double-lazer-gate junction and race to the other side.
-Explore level 3.
Episode E
-Pick up Hearts at the EXPENSIVE ANIMALS store in Glamour SE
-Visit Hearts in Aunt Raye's bay window on the first floor.
-Discover the 3 ALTARS OF CATDOM
-Get traumatized
Updates:
-Simone No longer eavesdrops while moonwalking away from her house
-Mille no longer purchases a series of cheap apartments for safe houses
DOWNLOAD