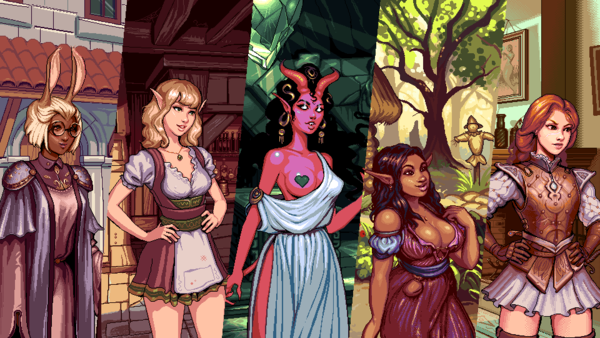 In this adventure game, you'll take the role of a young adventurer who returns to his childhood village to reclaim a house inherited by his grandfather.
On a sudden twist of fate, you find a mystical amulet in your newly acquired house, and its simple touch puts in motion a chain of events that will lead you to meet a mysterious woman who has sought refuge in your home.
Developer: Mirthal Patreon – Itch.io
Censored: No
Version: 0.24.2 d
OS: Windows, Android
Language: English
Genre: 2DCG, Adventure, Fantasy, Male protagonist, Big Ass, Big Tits, Oral sex, Handjob, Romance, Mobile game, Animated
1- Extract to the desired location.
2- Click on "Aurelia.exe" to start playing.
v0.24.2.d
NSFW content

Dungeon Scenes – Inferno Section
Imp
Succubus
Cerberus
Royal Duo

EXTRA SCENES from the latest Noble Build.
Ivy / Scarlet
Ki-ki / Luna

Bugfixing

Fixed the dungeon Spell Statues not displaying a description.
Fixed the [Hex Box] sold by Soran displaying an incorrect price of 2000.
SLUMDOG = 1,000,000 Gold
TOTHEBRIM = Unlocks all the achievements
VSZOMBIES = Plants saplings in the garden
THEBLACKMAGES = Obsolete cheat, was used for the garden to grant loads of mana in earlier versions
PANACEA = 100 of each potion
LEWDMAGE = When talking to Ivy, she is naked
APOTHECARY = 100 each of certain ingredients
FUCKMEUPFAM = Deletes your entire savegame information
WISEMAN = Instant level 100/ Max attribute points
DEBUG = Debug menu (Type in DEBUGOFF to turn it off)
DUORESET = Resets Ivy/Scarlet Questline
DOWNLOAD
https://pixeldrain.com/u/DgsV4YMb
https://uploadhaven.com/download/1ec4caf98a4ed29added290fe8fbffa0
https://pixeldrain.com/u/6mhEvZcp
https://uploadhaven.com/download/b498746936a976b974ef43475ae4114d