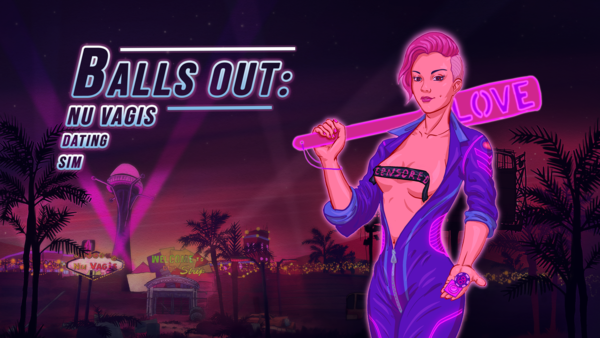 The game is a parody spin-off of the original game taking place in 2284 in Nevada and California in a parallel universe.
Here violence is forbidden, but booze, smoking and sex are normal things to do and to speak of and humanity tends to preserve itself from extinction! So, the whole thing reminds of the 'normal' world of 1980s and the main plot is about love and freedom.
Developer: Peepboy Co Patreon
Censored: No
Version: 0.0.3a
OS: Windows, Linux, Mac
Language: English
Genre: 2DCG, Animated, Male Protagonist, Female Domination, Handjob, Dating Sim, Sex Toys, Vaginal Sex, Romance, Parody
v0.0.3a
Peep-Boy interface with 12 screens and dozens of parameters;
Inventory system;
Quests and Tasks with logs;
Pop-up messages on the main screen showing important info like new quests or parameter changes ;
5 quests with tasks (made of refined older scenes);
New choices in Chucky's Cave resulting in skills' boost plus new micro dialogues after every choice;
Refined Guard Station scene: MC is no more obsessed by Lucky, he is just interested and worries for her health;
Skippable intro;
Some optimization for PC/macOS/Linux versions;
The first build for Android.
DOWNLOAD
https://mega.nz/file/L95CBSib#zcgBd5FaU6Oju9Ys50z1vOiVoJFQYOcyOJahtorOnJk
https://mixdrop.ch/f/gn7vjo4ecm61pr
https://workupload.com/file/YmBp77CXe7T
https://mega.nz/file/S4YXTaJZ#my9mf3AP29XRfS9OCRKi38ruZND9bhqq810mnK5aaZ8
https://mixdrop.ch/f/knq401nlu3o06e0
https://workupload.com/file/smbUphCb8Gv
https://mega.nz/file/24ZxVShB#DEdJkkRk1xg0S_tDxzBlZoS5n-blWQn7SvdpdGcp8vM
https://mixdrop.ch/f/n0zdlmlns98rnw
https://workupload.com/file/QxtsqvD4ukz
https://mega.nz/file/ukQWFJLQ#hoZOfYlkjxBVcKWfz8oyuEJhJ-iGvov50unYvLrPHUM
https://mixdrop.ch/f/mdx644prsmgwxd