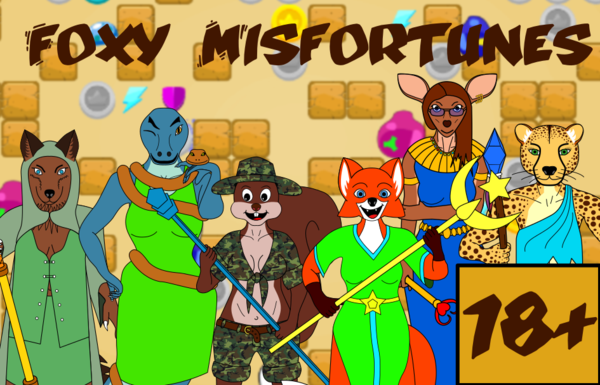 Follow the (mis)adventures of Foxy and her fellow students from the College of Magic who decided to test their skills, were curious or simply silly and by chance have gotten themselves into embarrassing situations leaving them significantly less dressed than it is socially acceptable.​
Developer: eugeneloza itch.io
Censored: NO (Optionally can be turned on in options)
Version: 2.0.721
OS: WINDOWS, LINUX, ANDROID
Language: English
Genre: 2D Game, adventure, Female Protagonist, Mobile Game, Multiple Protagonist, Furry, No Sexual Content, Shooter
WINDOWS
No installation required – just extract the game into one folder and play.
Known bug on Windows 10: Avoid putting the game into a folder with non-ASCII characters if your user name also contains non-ASCII characters.
LINUX
No installation required – just extract the game into one folder and play.
Sometimes you might also need to set "executable" flag for the binary (`chmod +x foxy-misfortunes` or through file properties in the file manager).
You need the following libraries installed to play the game:
* libopenal1
* libpng
* zlib1g
* libvorbis
* libfreetype6
* You also need X-system, GTK at least version 2 and OpenGL drivers for your videocard, however, you are very likely to have those already installed

Alternatively on Debian-based systems like Ubuntu you can download the DEB package and install it through a package manager or by dpkg -i foxy-misfortunes-*-linux-x86_64.deb command.
ANDROID
Download and install the APK. The game requires Android 4.2 and higher.
Note that you may need to allow installation of third-party APKs in phone/tablet Settings.
2.0.721
Fix broken design in Game Over screen
Finish proof-reading
DOWNLOAD