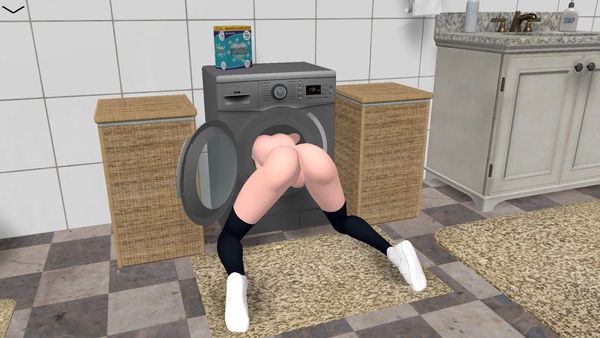 "GloryUse Maker" is a straight-to-action 3D Simulation/Sandbox game primarily around Stuck and Freeuse kinks.
You can upload your favorite girls image to game, customize your girls body, choose a place where she stucked and then you can "help" her while she stucked.
This game is a fully real-time sex simulator where you can create scenes as you like and don't have any story.
Developer: NeoEthik Patreon
Censored: No
Version: 1.1
OS: Windows
Language: English
Genre: 3d game, Anal Sex, BDSM, Big ass, Character creation, Male domination, Male protagonist, Parody, Sandbox, Simulator, Vaginal Sex
v1.1
Penetration Actions is now real-time and can directly controlled by player (via mouse drag and mouse wheel)
Penetration Actions Auto Mode Now Have Few Options (speed, Insertion Percentage)
Struggle and Shake Animations Added (currently not usable for stuck in W-Machine Scene)
Clothing Tab with Stockings and Shoes Options added
Scale Penis size option Added
Penis Balls Physics Added
Doggy Pose Added (W-Machine Scene)
Few Basic Sounds added
Pan View Option Added (middleMouseButton+DragMouse)
Butt physics added
Stuck in Washing Machine Level now looking much better
Belly Inflation Slider Added
Few Wall Ink Added to Toilet Scene
Coloring Tabs is More Basic and Easier to Use Now
Scale Picture Frame Option Added
Reset Picture Position Button Added
UI is Better Looking and Easier to Use Now
Color Accuracy of Skin Color Option Improved
Resolution Option Dropdown Added
Quality Settings Option Added
Volume Slider Added
Opening Level Changed To Toilet
Small Model Deformation on Ass Fixed
Penis Model Improved
Minor Improvement on Lightning
Minor Performance Improvements
DOWNLOAD
https://drive.google.com/file/d/1KoBn13SIz0Acvu9GBrqmeUYNX6Z2teTE/view
https://mega.nz/file/U0VlzA5Q#mK_88g7iVta3-Q1WMOno7K33sGBxeUW7LiEUoW5PcN4
https://workupload.com/file/WpL9dbBgDEe