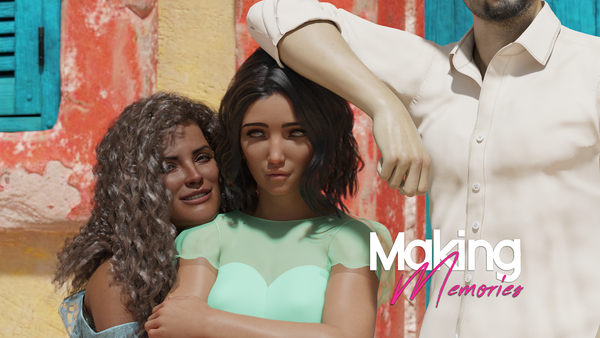 A trip not taken, a lie befallen – as Alvaro and his ward are both traumatized by a sudden change in their lives.
With not many whom he knows, he goes back to the only one who knows him inside out as they rediscover and re-evaluate the nature of their relationships and make new memories.
Developer: Kvitravn Tales Patreon
Censored: No
Version: Episode 6 – v0.6a
OS: PC (Win/Linux), Mac
Language: English
Genre: 3DCG, Male protagonist, Big ass, Big tits, Virgin, Romance
v0.6a
Fixed missing sayer in Xiomara's Top date route.
DOWNLOAD
Please start a new game if you're encountering any crashes related to missing audio files.
Here are the saves that leave you just before the new update starts.*
https://pixeldrain.com/u/8U7U8ETS
https://anonfiles.com/oft8Nd18y0/MakingMemoriesv0.6-0.6-pc_zip
https://mega.nz/file/pssSHK7C#GCAa-SxJ3bCDbu8PW9rDjfA9RwCUm8fXfFevxSVwwQA
https://pixeldrain.com/u/ereLeQLg
https://anonfiles.com/8eofN315y3/MakingMemoriesv0.6-0.6-mac_zip
https://mega.nz/file/co030TrY#mn2VkBcfOXDtXopmm_OE4xnBcEC5yGrKzHN2wSIGGbQ
https://mega.nz/file/x1UG2ahY#cskhpBInri9y75VvSlBG21nfYElftIma2qjgdGccodA