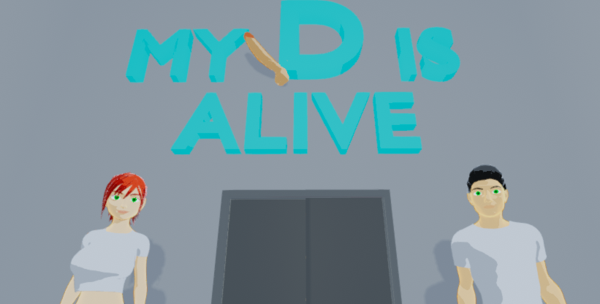 You just moved into a building that you don't have a lot of information on. All you know is that it has a characteristic of being able to house all the people it wants. Upon entering your apartment, you discover that you are not living alone. Will you be able to get on with your life, with this new resident accompanying you wherever you go?​
Developer: DiceStation Patreon
Censored: No
Version: 0.02.2
OS: Windows
Language: English, Portuguese
Genre: 3D Game, 3DCG, Animated, Futa/Trans Protagonist, Male Protagonist, Big Ass, Big Tits, Futa/Trans, Masturbation, Humor, Point & Click, Sandbox, Simulator
—-Changes in what was already done—

As we were having a lot of problems with camera movement, it has now been reworked. It will no longer be possible to zoom, leaving only camera movement and rotation. Also, if you place the cursor on the corners of the screen you will move the camera to that position.
The main and gender interface have been modified. Icons were removed and icons that were being unnecessary. Now you have more space to see the action happening.
The day now lasts 30 minutes, instead of 10. There will be more time for interaction with furniture and characters.
The in-game tutorial has been temporarily removed to be added later with greater player interaction with the universe.
You can now move the camera with "WASD"
Zoe has more player interaction animations
All interaction sites have unique and specific cameras.
The new keys to activate Cheat is : ctrl+shift+c
—-New Features—

Zoe now has an all-day schedule. You'll be able to see her moving around the floor, although you still can't see where she's going when she leaves the floor. Knock on her door when you're home so you can see her.
New dialog lines have been added. With D you can form a friendship, and with Zoe you can also increase her lust and lust. This is important for sex.
By the way, when you meet a certain prerequisite, you can call Zoe to bed. There something special happens.
Depending on your friendship with D, he can grow, shrink and come at random times during the day. Keep your friendship with him to avoid problems.
You can walk around naked in some places, and not others. Be careful no one sees you.
—-BugFix—
Now it is possible to close the computer
It is possible to enter the bathroom at Zoe's house
Zoe is not invisible during the day
Press (ctrl+shift+c) to open the cheat box.
type (help) in lower case, to open all the cheats that is possible in this version.
DOWNLOAD