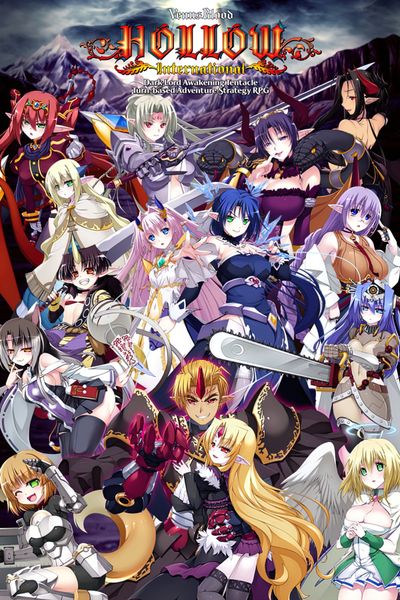 In ancient times, the Holy Land of Helvetia flourished under the goddess Elnath's protection. Then the demons came—pouring out from the land below, overrunning the holy land and defeating the goddess through violent war—bringing about an age of darkness. The humans who once lived peacefully under the goddess' protection are now ruled over by the four demon queens, known as the Dark Lords. Any humans deemed worthless have their souls farmed to create Tactica, a crystalline object used as a material for weapons and as fuel. However, a new conflict arises as rumors of Empress Karvia's plans to take over all of Helvetia spread, causing the other three Dark Lords to simultaneously declare war on the Empire. Despite being surrounded on all sides, Empress Karvia remains confident that she will prevail. After all, she has a secret task force under her command, one that served her well in the war against the goddess: The "Black Arme Vapula," led by the war hero Leonhardt Arknoah.
Developer: Ninetail & Dual Tail Website
Publisher: JAST USA Website
Censored: No
Version: 1.0.3
OS: Windows
Language: English
Voices: Japanese
Length: Long (+50 hours)
Size: 4.6 GB
Genre: 2D Game, 2DCG, Japanese Game, Male Protagonist, Multiple Endings, Voiced, Anal Sex, Ahegao, BDSM, Bestiality, Big Ass, Big Tits, Blackmail, Bukkake, Corruption, Creampie, Drugs, Female Domination, Furry, Futa/Trans, Group Sex, Groping, Handjob, Harem, Humiliation, Internal View, Lactation, Lesbian, Loli, Male Domination, Masturbation, Multiple Penetration, Oral Sex, Pregnancy, Prostitution, Rape, Sex Toys, Sexual Harassment, Slave, Sleep Sex, Spanking, Stripping, Tentacles, Teasing, Titfuck, Transformation, Urination, Vaginal Sex, Virgin, Dystopian Setting, Fantasy, Graphic Violence, Management, Mind Control, Monster, Monster Girl, Romance, RPG, Strategy, Superpowers, Turn Based Combat
Extract the 'VenusBlood HOLLOW International [v1.0.2] [Ninetail].zip' archive.
Double click the 'INST_VBHI(EN).exe' executable.
Follow the instructions on screen.
Play the game by running the 'VBHI.exe' executable.
(Copy the 'patch.xp3' file into the game installation folder and overwrite when prompted)
[Ver.1.03]
・A few units have had their status parameters changed. (Onmyouji, Ghoul, Spirit, Nosferatu, Skeleton, Alraune, Slime lady, Minotaur, Harpy, Griffon, Ether Blade, Sea Serpent, Magma Serpent, Gust Serpent)
・A few skills have had their descriptions fixed (En Ver.)
・Some of the tutorial text has been fixed (CN Ver.)
・A bug that occurs during race limited mode in which certain units in a squad were not appearing on the equipment menu has been fixed.
DOWNLOAD