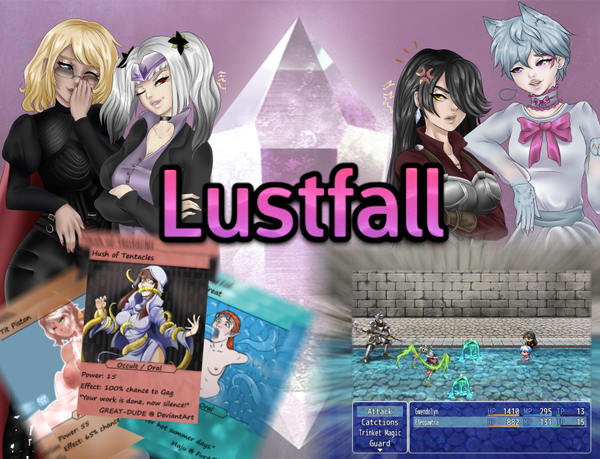 Waking up with no memories of who she is, Gwendolyn finds herself in a world that is obsessed with lust, sex and fantasy. She must team up with a cat girl, a dominatrix and more in order to travel across Heartlandia in the search of what has caused the mysterious event known as the "Lustfall" before society collapses from the weight of its own carnal desires. Will she be strong enough to resist temptation at every corner, or will she give in to her deepest, darkest fantasies and submit the world to ruin?
Developer: SubSupreme – Patreon
Censored: No
Version: Update 6
OS: Windows, Mac
Language: English
Length: 4+ hours
Genre: 2DGame, RPG Maker, 2D Drawn, BDSM, Bondage, Oral Sex, Vaginal Sex, Female Protagonist, Tentacles, Slime, Spider, Webbing, Male/Female, Female/Female, Cat Girl, Maid Costume, Rubber, Latex, Doll, Transformation, Dollification
Update 6
NEW FEATURES!
THE STORY CONTINUES – The four heroines made it to Blisopolis at last, but what secrets of their past will come back to haunt them? Looks like they will have to take some time to enroll in the kinky college experience.
NEW DUNGEON! – The Studium Amare, a sexy academy of fetishes for adults who love student/teacher roleplay and other educationally erotic fantasies!
24 NEW BATTLE CARDS!!!! – 124 lewds in total for those who are counting featuring several artists who are new to Lustfall!
Bug Fixes:
A bucket load of spelling mistakes and grammatical errors.
Fixed a soft lock issue with mysterious (but not yet implemented) portals in hidden areas.
Bumped up the experience earned from the House Cleopawtra enemies by a small amount.
DOWNLOAD