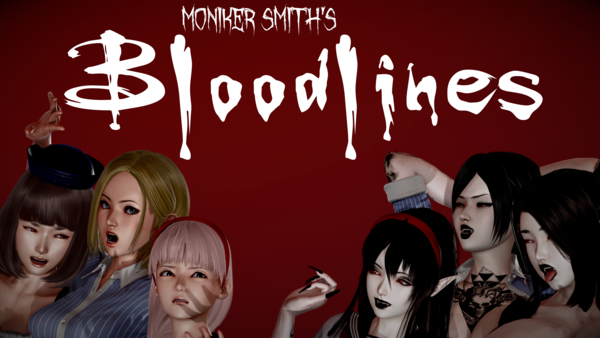 Follow branching plot lines as an ancient power awakens and vampires begin their takeover of a small town. Every time a new victim becomes a vampire, it unlocks a new branch of the story. Replay each scene to access art and story exclusive to the perspective of either victim or vampire.
This visual novel focuses heavily on art assets, delivering more than 11,000 unique images with 200-700 new images added every month. Play from both perspectives to see them all!​
Developer: Moniker Smith Patreon
Censored: No
Version: 0.33.1 Public
OS: Windows, Linux, Mac
Language: English
Genre: 3DCG, Vampire, Corruption, Paranormal, Mind Control, Transformation, Body Morphing, Big Tits, Big Ass, Oral Sex, Handjob, Titfuck, Vaginal Sex, Anal Sex, Creampie, Lesbian, Male Domination, Female Domination, Exhibitionism, MILF, Bukkake, Mobile Planned
1- Extract to desired location.
2- Click on "MonikerSmithsBLOODLINES.exe" to start playing.
v0.33.1 Public
Bloodlines v0.33.1 and the Book One Patch are NOT compatible with earlier builds
Bloodlines v0.33.1 and the Book One Patch ARE compatible with the Low Spec Patch
There is a chance your old save files will function incorrectly
Many triggers you've activated in the past have been moved, so you may need to unlock content again.
This patch put a number of complicated changes on top of last month's complicated changes, so don't be shy with the bug reports!
Bloodlines v0.22 INC

Updated for the latest content, this patch affects content throughout the game and re-contextualizes many character relationships. These changes alter multiple perspectives in hardcore scenes and replace not only names used in dialogue/narration but also plot and setting elements from the vanilla version. If this is not your kink, please do not install this patch.

Also remember that this patch is only designed for the current build of Bloodlines. Applying this patch to older versions of the game will break scenes and may even cause the game to crash. If you experience any problems when applying this to the current version of the game, don't be afraid to tell me!

Please note that this month's patch is larger than prior releases because it contains images and movies. Installation is still drag-and-drop, but you can check the "Instructions" included in the zip file if there's any confusion. This patch can be applied directly to the vanilla version of Bloodlines v0.18, meaning you do not need to install the vanilla update to v0.22 prior to applying this patch.

Also note that, while this month's patch alters character relationships to match prior INC Patches, it does NOT add INC content to the latest hardcore scenes.
https://mega.nz/file/j7YGyZrR#9_aPgrD9H7JcmWZFDK60kDsoJTHtSHY9RpsxFDu4T3o
DOWNLOAD
https://anonfiles.com/bey0S7H8xc
https://mega.nz/file/olkwGRAb#Rn2wUS1MQPgguG7hOAPUfXWRHSYzavvabqx_DCwVL1s
https://mixdrop.co/f/1v0jjz3vf7nvq8
https://mega.nz/file/p0VWgbgC#ioZcJBatj5kCZzzyh25lWi0Ge8BD5_gww5klUc3LjNA
https://anonfiles.com/V8x9SdH8x6
https://mixdrop.co/f/4nlzz33gcx7lqd
https://mega.nz/file/1EVwBDZR#e4e9nlFZYzVyWzb5V2Shn7TT5mG6SlwJ38jZNsde1hw