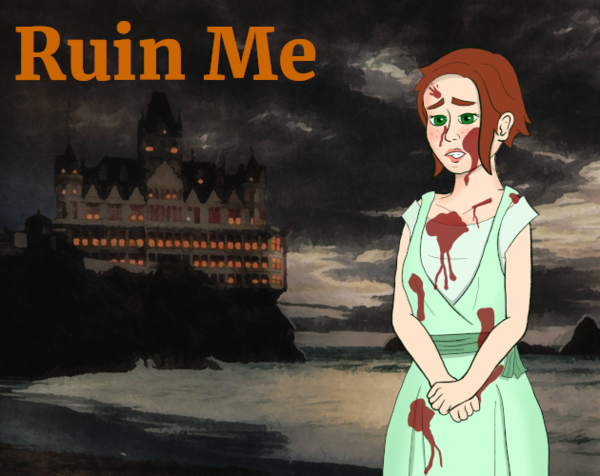 In Barrowport, a town of dark mysteries, the young woman said, "I want you to ruin me."

As a professor of antiquities, you assumed your new position would involve investigating strange artifacts and stories of monsters. You didn't expect that young Theresa Radcliffe would know your forbidden secret or that she would beg you to lead her down a path of depravity.
Developer: Phanes Dionysos Patreon – Itch.io
Censored: No
Version: 0.38.1 Public
OS: Windows, Linux, Mac, Android
Language: English
Genre: 2d game, 2dcg, Female Protagonist, Male Protagonist, Futa/Trans Protagonist, Horror, Mystery, Monsters, Vaginal sex, Corruption
Extract and run RuinMe.exe, RuinMe.sh, or the Ruin Me app

UPDATING ON DESKTOP:
Unzip into a new directory; do not overwrite. Your saves should be automatically preserved.
For PC, Linux, and Mac: Unzip the download and run RuinMe.exe, RuinMe.sh, or the Ruin Me app.
In-game, press "v" to activate built-in text-to-speech. Press "a" to bring up more accessibility options.
For Android, an APK file is included; you'll need to enable the installation of apps from external sources in your settings.
v0.40.3.
The "Fugue for Innumerable Hands" night music, allowing a dream of disorienting groping. With Permissivity 1, Theresa can join in.
The ability to pierce the player character in the Sterile Parlor and change your piercings in your bedroom.
New art variations for certain poses to show the player's nipple or navel piercings, when appropriate.
Refinements to the tutorial for better dialogue flow, including cluing Pappy's gender.
A line of expository dialogue when Meg can first be involved in training if you haven't had sex with her yet.
Minor fixes and enhancements.
DOWNLOAD