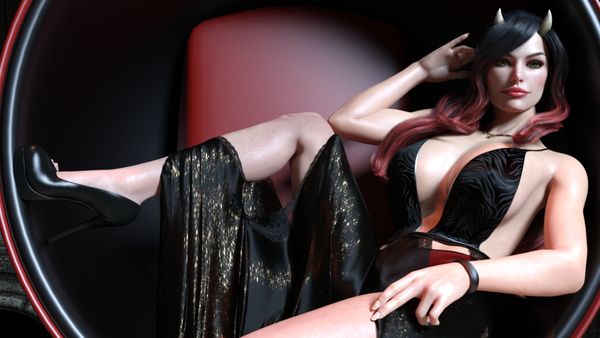 The Betrayed is an erotic novel in which you are the hero and you decide how the story goes! Whole game is made in Ren'py engine. Models and locations are rendered and sex scenes fully animated, say goodbye to looped 3 second length animations . Walk in the shoes of an unnamed protagonist who dies in accident and signs a pact with the devil to become a powerful spirit, who can possess various npcs and slowly grows stronger. This makes the Betrayed unique as you do not control only one character, but many more during your journey. Whole game is set into modern times asset of small city. Just think about it, you can became almost anybody to get any girl you want. So what are you waiting for? Start your journey now!
Developer: Joraell Patreon
Censored: No
Version: 0.90 BETA
OS: Windows, Mac, Linux, Android
Language: English, Russian, Turkish, Italian
Genre: 3DCG, Male protagonist,Female protagonist, Animated, Handjob, Oral sex, Vaginal sex, Anal sex, Incest, Lesbian, Masturbation, Mobile game, Monster girl, Paranormal, School setting, Transformation, Boobs expansion, Butt expansion, Growing, Sandbox
1- Extract to desired location.
2- Click on "Betrayed.exe" to start playing.
v0.90 BETA
Main storyline continues
New path ( Possesion of stripclub owner) You can posses him just after Scarlett's dance.
350 renders
70 animations
1) in your room click on computer > door > cupboard > box on the shelves > table lamp
As you do this your room-mate walks in with a cop questioning her
2) move out of door into bathroom enjoy scene
3) go to school watch the dialogues
4) In hall way click on notice board on your left click on girls pic
5) follow the girl to the washroom click on her
6) go to park click on door on your right click on hobo it says rest on beach
7) go to beach click on Ivana
8) go to park click on bench
9) at night possess hobo
10) go to warehouse pick wire it is on your left in boxes
11) go to place of death/ crash site
12) look for drain
13) use wire to get key
14) go to apartment
15)take bath in bathroom
16) go to you room
use your PC find a folder named 'secret' at the left side of your screen cilck it. (get the secret pic 1)
find another folder 'day on the beach' click it. (get the Ex Gf pic)
17) escape from window
18) go to park
19) sit on bench there will be some dialogues
20) click on danger icon behind bench
21) sex scene this you won't need any walkthrough
22) go to school click main hall
23) click on locker no-125
24) click on the lady
25) go to your apartment
26) go to your room use your PC
27) go to school > computer class
28) click on 'my girls' folder (you will get the Girls pic)
29) click on 'codes' folder
30) go to 'Female WC'
31) click on the last door
32) go upstairs dean's office
33) select one of the options (make a save here may have alternative routes in the future)
34) select keep searching the office
35) click on the mini sculpture on the shelves find 'deepest secret' book on left click it. (you will get the secret pic 2)
36) click on the small picture> sport trophy > notice board > laptop
37) select try password- answer the three security questions –
highlanders > salou > brooke
38) go to park go to hobo
39) secret your route ( make a save here)
40) click taxi
41) enjoy the scene ( after that you will get the bonus scene automatically)
42) join tracy in the shower or go to school (may have alternative route in the future)
43) enjoy the scene
44) the bonus scene will play after the credits
45) go to cop's apartment
46) click on cupboard
47) go back to living room
48) click on table
49) click on paper with password
50) go to the bed
51) go to dean's office – choose all the options
52) go to the hospital
53) go to the warehouse
54) go to cop's apartment
55) go to the bed – enjoy the scene
56) go to the school
57) go to dean's office
58) when talking with mr anders , choose all the options
59) go to ivana's apartment – choose all options
60) go to cop's apartment
61) help her /or/ have a little fun (choose what you want)
#61:
If you choose to "have fun", you won't get an "invite" from the blonde in coming days. If you choose to "help her" you'll get an invite at night and have "more fun" on the next day.
— enjoy the scene if u choose to have a little fun —
63) go to the bed
64) go to the school
65) go to "class 1"
66) go upstairs
67) click on the big plant
68) click on the box next to the big plant
69) click on right book near computer — secret 3 —
70) click on computer — enjoy the scene —
71) go to the computer class
72) go the ivana's apartment
73) go to cop's apartment
74) click on the black drayer in the living room to get the gun
75) click on school
76) go to ivana's apartment
77) go to co'ps apartment
78) click on the drawer
79) Choose to keep or sell the drugs
80) Go to the bed
81) Go to school
82) Click on main hall -> click on sophia
83) Choose both choice
84) Go upstairs
85) Talk to anders
86) Go to apartment and click on door
87) Choose all the choice
88) go to cop's apartment
88b) if u choose to not selle the drugs and don't give a chance to brandon, angel will be in cop's apartment
89) click on the drawer
90) go to warehouse
91) Accept or refuse the offer
91b) if u accept the offer, the demon will help you, if u reject her offer, a girl in the car will save you
92)Click on the demon if u choose to sell the drugs
93) click on the right door
93b) if you choose before to help the girl before, she'll rewards you with sex, however continue with the story
94) go to school
95) go to class 1
96) talk to anders
97 Return to the map and click on school gym

0.41
Go to Ivana's Apartment
Click on the Teddy Bear->Nose
Go to Cop's Apartment
Go to bed
Go to Police Station
Click on Brandon
Go to school
Go to the Beatch
Go to Cop's Apartment
Go to bed
Go to Shop
Go to Cop's Apartment
Click on the flashlight
Click the key
Click on the chair
Check other doors first before checking Room 4 (middle door)
Take advantage
DOWNLOAD