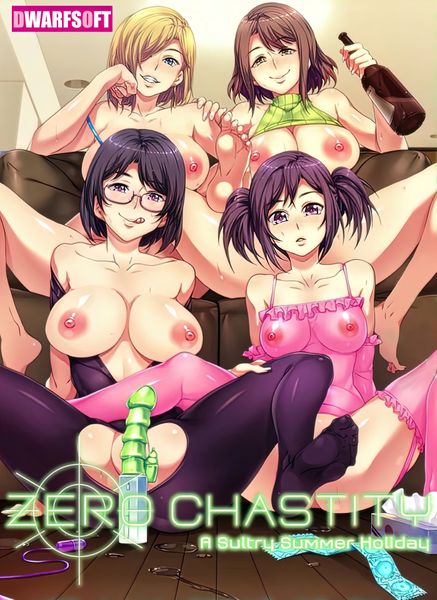 Summer's almost here. Cicadas are starting to chirp, girls are out buying bikinis, and it's finally time for Mamoru Suzusato to find a good college. What Mamoru doesn't expect is finding a dorm near the University of his dreams run by a beautiful, busty woman named Mitsuko Souma and a harem of three younger beauties with a secret – they're all completely sex-crazed.
Developer: Dwarfsoft Website
Publishers: Orcsoft Website, FAKKU! Website
Censored: No
Version: 1.01
OS: Windows
Language: English
Voices: Japanese
Length: Medium (10-15 hours)
VNDB: Zero Chastity: A Sultry Summer Holiday
Store: STEAMFAKKU!
Size: 900 MB
Genre: 2DCG, Japanese Game, Male Protagonist, Multiple Endings, Voiced, Anal Sex, Ahegao, BDSM, Big Ass, Big Tits, Bukkake, Cheating, Creampie, Exhibitionism, Group Sex, Groping, Handjob, Harem, Humiliation, Incest (Cousin), Internal View, Male Domination, Masturbation, Milf, Multiple Penetration, Oral Sex, Pregnancy (Impregnation/Endings), Sex Toys, Spanking, Stripping, Swinging, Teasing, Urination, Vaginal Sex, Romance, School Setting
Extract the 'Zero Chastity ~ A Sultry Summer Holiday [v1.01] [Dwarfsoft].zip' archive.
Play the visual novel by running the 'zero.exe' executable.
– 10-15 hours of erotic visual novel with art by the legendary Mizuryu Kei.
– 4 unique heroines to choose from:
– The sultry, maternal Mitsuko. Kind office-worker with a wild side, Souko. Sayoko, whose devious nature is at complete odds with her sharp mind and strict work ethic. Kurumi, a big softie at heart, but her thorny outer shell will be tough to crack!
– Over 25 fully uncensored scenes covering a wide array of situations. Prepare for lots of ahegao and busty women apologetically getting off in some of the dirtiest ways possible.
– Fully voice acted. Featuring performances by: Misonoh Mei, Aoba Ringo, Tezuka Ryouko, and Kazuha!
DOWNLOAD